Consultants For Environment System Technologies (CFEST, Inc.)
Mission Statement:
Provide technologies and services for cost and time efficient environmental and groundwater assessment and management.
Automate environmental data displays with location map, hydrograph, geology, and regulatory limits.
Develop advanced groundwater fate/transport technologies.
Perform credible modeling for EA, regulatory compliance, RI/FS, ROD, and risk assessments.
Provide real-time access of data, analysis results, and animations through Internet for efficient participation of regulators, stakeholders, and the public.
Minimize monitoring cost by timely identifications of trivial and duplicate data.
Please visit EWM Group
Without real-time massive display

trivial and duplicate data is collected for years
Our automated concise informative displays assist regulators and stakeholders to understand environment status and approve restoration efforts.
Historical Chemical Data Display of a Monitoring Station (Reduced copy of 11"x17" plot) with location map, precipitation data, hydrograph, geology, well construction, regulatory limits, and other relevant information.
Regulatory Limits

Our groundwater fate/transport technologies are designed for complex geologic setting EA, RI/FS, ROD, & risk assessments with informative displays (images below created using Tecplot).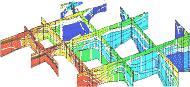 Our real-time access of data, summaries, plots, and animations promote participation of stakeholders and the public.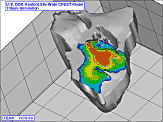 We bring decades of experience in groundwater and environmental management to a given project. Coupled with our experience is our expertise in addressing regulatory compliance issues, the processing of site characterization data, and the modeling of complex groundwater sites. But our expertise doesn't end there. We are also pioneering the development of innovative software tools for data processing and groundwater modeling. Our software products are currently used nationally and internationally.